This Weekend: 19th Ave. Closure, Bastille Day and Sunday Streets in the Mission
By Schad Dalton
M Ocean View Track Replacement – 19th Avenue Closure
The M Ocean View Track Replacement Project will replace the existing rails, install a new traffic signal, and implement transit signal priority at the intersection of 19th Avenue and Rossmoor Drive. This project will require a full shutdown of northbound 19th Avenue from Friday, July 13 at 10 PM until Monday, July 16 at 5 AM. Southbound traffic will not be affected. As a result, the M Ocean View shuttle bus and 28 19th Avenue routes will have an inbound reroute for the duration of the shutdown while the 91 OWL Route will have an outbound reroute.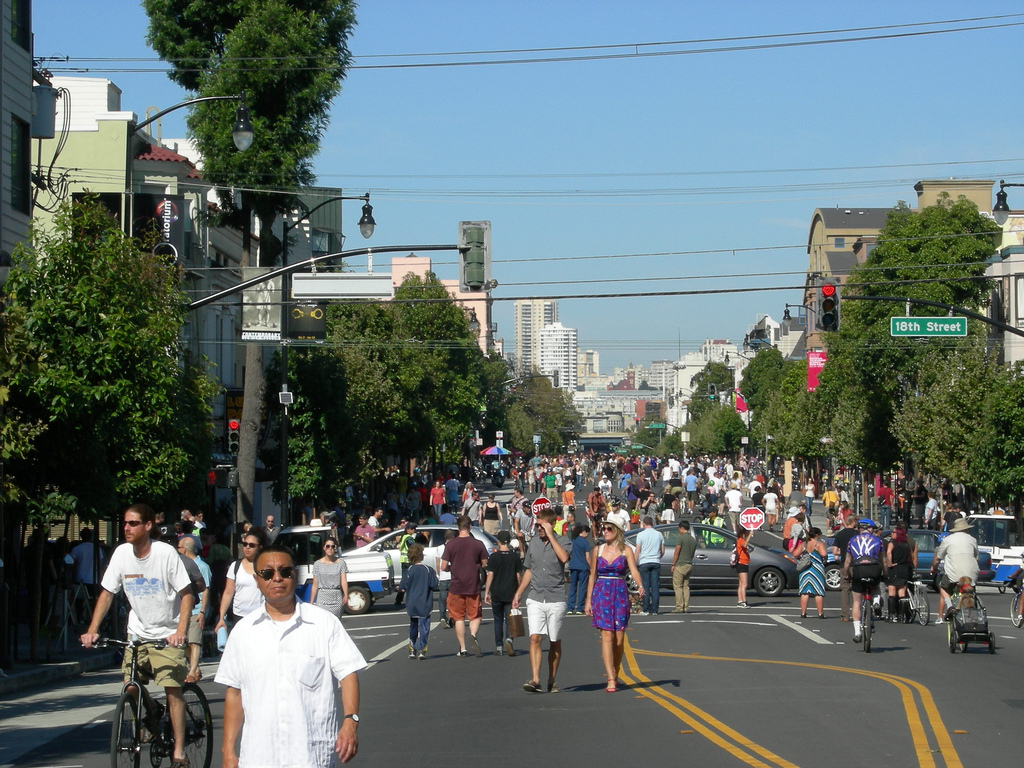 Walk, bike, run, skate, cartwheel…however you prefer to get around, Valencia Street will accommodate you this Sunday. Photo: Dolores Park Works/Flickr
Bastille Day Festival
Saturday, 10 AM to 7 PM
Justin Herman Plaza
The Storming of The Bastille on July 14, 1789 by French revolutionaries was the flashpoint of the French Revolution and has been celebrated in more or less its current fashion since 1878. Since 1880, San Francisco has held its own Bastille Day celebration and this year –the 140th year of the event– will be no different. This free event organized under the patronage of the Consul General of France in San Francisco is open to all and is a day to enjoy a plethora of French establishments, food, wine and beer booths, a vintage car show, tours of the city's French Quarter and much more.
---
How to Get There on Muni: Riders may utilize Muni Metro to the Embarcadero, the F Market and Wharves or E Embarcadero streetcar lines, the California Cable Car Line, as well as the 1 California, 2 Sutter/Clement, 6 Haight/Parnassus, 14 Mission, 14R Mission Rapid, 21 Hayes or the 31 Balboa routes to the event.
Muni Service Notes: There are no planned service changes for this event. Transit to the event may experience higher than normal ridership or possible minor delays in the area of the event.
Sunday Streets: Mission
Sunday, 11 AM to 4 PM
Mission District
The sunny weather of the Mission will provide an idyllic setting for this month's edition of Sunday Streets. The car-free fun of the Mission will extend down Valencia Street from Duboce Avenue to 26th Street, transforming it into an open community space for all to enjoy. Patrons are invited to walk, bike and roll along Valencia while checking out institutions like The Mission Cultural Center for Latino Arts and Poder!, or neighborhood staples like Dog Eared Books and taqueria Puerto Alegere. There will be tons of activities and local vendors to explore this Sunday in the Mission, so be sure to stop by — just remember to leave your car at home!
How to Get There on Muni: Leave your car at home and take the 12 Folsom/Pacific, 14 Mission, 14R Mission Rapid, 22 Fillmore, 27 Bryant, 33 Ashbury/18th Street, 36 Teresita, 48 Quintara/24th Street, 49 Van Ness/Mission, 55 16th Street or the 67 Bernal Heights routes to near the car-free action on Valencia Street.
Muni Service Notes: There will be reroutes for the 12 Folsom/Pacific and 55 16th Street routes beginning at 10 AM the day of the event. Other routes in the area may experience higher than normal ridership and possible minor delays.
"On Tap" gives you a heads up about the big events in town and what Muni routes and lines will get you to the party. Look for this feature to be posted usually on Thursdays for a look ahead to the weekend. Check out our Weekend Traffic & Transit Advisory for more details.
Published July 11, 2018 at 02:56PM
https://ift.tt/2uq9iKX
from Blogger https://ift.tt/2NLJUIs